A good security camera has become a necessary item for business and property owners in this day and age of increased crime. To keep an eye on your home or business without interruption, you need the best you can get for your money.
In this article, we will look at the 1080p and the newer 4k security camera setups to see which one is the best for you. We will compare the positive and negative aspects of both these versions of cameras in order to help you make an informed decision for yourself.
Keep on reading to find out which one you should use to protect your home and business at all hours of the day.
What is the Difference?
A 4k security camera will essentially have four times the resolution capability than your full-HD resolution, which is 1080 pixels. Most of us know what full-HD is and that you get much better picture quality than the standard 720 pixels normal HD video provides.
What the so-called 4k stands for is basically that the horizontal resolution of the picture is around 4000 pixels or a bit more. There are many different types of 4k resolutions, but the consumer standard for television is 3840 x 2160 pixels, which is your 4k UHD.
In contrast, 1080p full-HD cameras have a horizontal resolution of 1080 pixels, which is much less than the 4k version. We will take a look at these two versions of video quality and how you can best use that extra 4k resolution to your advantage. 
1080p Security Camera
Price
The first difference you will notice about 1080p security cameras, apart from the resolution, is the price tag attached to them. This type of security camera usually falls within a decent price range of less than $100, about half the price of a 4k camera.
Video footage that was recorded at the full-HD resolution can be viewed on much less expensive monitors with full-HD capability. The recording devices you will use to record these 1080p videos are also much cheaper than the 4k DVR needed for the higher resolution video.
Video Quality
When you use a security system to record what is going on in and around your property, you need a good quality image for future reference. This simply means that if the footage is viewed later, you want to be able to recognize the face of a culprit on the video.
This is quite possible with a full-HD 1080p security camera, so you can provide it to law enforcement for identification purposes. You may also be able to see the number plate of a vehicle on the footage if it is close enough to the camera while it is being captured. 
Storage Capacity
Storing the footage of a full-HD 1080p is very easy and it will not take up too much space on your storage device. You do not need that large of a storage device to successfully store footage for a few days of recording so that it may be viewed later on.
Wide-Angle View
With full-HD resolution, you will be able to have a decent angle of view when you want to record a larger area. This is especially necessary if you want to use one camera for the front porch, or even the courtyard or front lawn.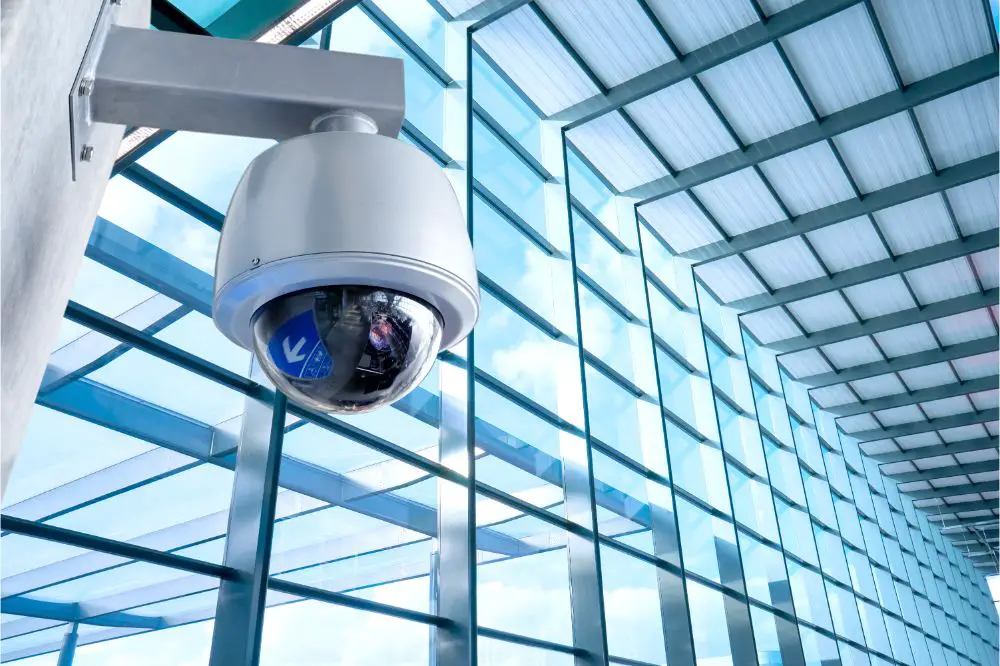 4k Security Camera
Price
A 4k security camera and all the necessary devices to view the footage recorded by it are all more expensive than full-HD devices. A 4k security camera with 2160p resolution is about three times the price of a 1080p 2MP camera. That is without night vision recording.
That is only the tip of the iceberg when it comes to the cost of the monitor and recording device you need to take into consideration. The great thing about the prices of new technology is that they will eventually go down and become more affordable for everyone.
Video Quality
With 4k resolution video quality, you will have a much clearer picture than with full HD and will be able to zoom in as well. This means you can see much more detail on the video for face recognition and to see the number plate of the vehicle.
The picture will be so clear that you can even be able to see pictures on clothing and marks on their skin, like tattoos. You have much better picture quality with 4k than with a full-HD 1080p resolution security camera, which provides much easier identification when needed.
Storage Capacity
4k resolution quality video footage will need a lot of storage if you want to record everything your security system captures. The high-quality video will quickly fill up your storage, so you need to regularly clean up space or get more storage space, at an extra cost.
Wide-Angle View
For wide viewing capability with a very clear and wide picture, a 4k resolution security camera is the best option. You can use the wide-angle view option with a large area and only use one camera to do so.
Comparison
Take a look at this comparison chart to see the differences between 4k and 1080p full-HD security cameras. Watch this video if you want to see the difference in video quality between the two types of resolution in video recording for security cameras.
| | |
| --- | --- |
| 4k resolution | 1080p full-HD resolution |
| | | |
| --- | --- | --- |
| Price | High price tag | Quite affordable |
| Video quality | Very high quality | Good video quality |
| Wide-angle view | Clear and wide | Decent angle |
| Storage needed | Needs a lot of storage | Not a lot of storage needed |
| Zoom capability | 400 times and more | 400 times |
| Night vision | Yes | Yes |
| Other features | Better cropping in pose | Can not crop in pose |
| Resolution | 4000 pixels plus | 1080 pixels |
It is clear that 4k gives you far better image quality than full HD 1080p resolution, but the problem comes with the overall cost. You will also need special equipment like a 4k monitor to get the full use and benefit of the 4k resolution video recording.
Conclusion
Depending on your security surveillance needs, you will find that 1080p is still a good option for standard coverage of your property. If you need more than that for better detail, then 4k is best for identification and seeing finer details of the surroundings.
Decide for yourself whether you want to just keep an eye on your property or if you need a more expensive option.